Currency
---
The official currency of the Pridnestrovian Moldavian Republic is the Pridnestrovian ruble.
It is possible to exchange Moldavian Lei, Ukrainian UAH, Russian rubles, US dollars and Euros in all exchange offices of the republic. Other currencies can be exchanged in the central branch of the Pridnestrovian Republican Bank.
You can use "Mir" cards to withdraw funds payment systems in the branches of: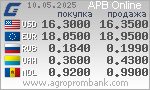 "Agroprombank" (www.agroprombank.com/pointsmap/)
"Eximbank"  (www.bankexim.com/branches/)
"Sberbank"  (www.prisbank.com/).
We recommend you always to take small amounts of money in Pridnestrovian rubles.
When calculating the budget of your trip to Pridnestrovie, count on average about of 30-40 Euros per day. The average cost of lunch in the cafe/restaurant is 5-10 Euros, trips in public transport – 15-18 Euro cents, taxi – 1-2 Euros, bottle of ten-year divine KVINT – 6 Euros.